---
---
I am currently down with flu. I started coughing on Thursday afternoon. I thought it's just a normal coughing, but due to the recent paranoia over H1N1 coming to Singapore shores, I decided to check at the school doctor. I didn't go travel anywhere over the few weeks so he dismissed the possibility of H1N1. (I was about to tell him that I did go to the airport to see my boyfriend before he flew off to Jakarta, but then I went to the airport after I got my first coughs)
On my way to the doctor, on my way to the airport, on the way back from the airport, I was always afraid to cough. Because I was afraid people will think bad things about me (like OH NOES THE GIRL IS COUGHING I MIGHT GET SWINE FLU HOW HOW HOW???)
Seriously, I think this paranoia thing is a bit too much. I found out that the H1N1 flu's fatality rate is low (just slightly higher than usual seasonal flu). Even the patient zero in Singapore is recovering well. Oh by the way, just because I'm an SMU student doesn't mean I have increased risk of H1N1. The SMU girl went to the doctor in Bedok area, I didn't go on the BSM NY trip, so no. Seriously.
Perhaps in Singapore they were already scared about what happened with SARS several years ago?
And by the way, I'm seriously irked by how a newspaper revealed the patient zero's name (who has requested not to reveal her name – at least in her statement to SMU). Cut it off, will ya. It's not like she intentionally wanted to contract the virus.
Anyway, I'm quite contained in home right now. I only went out to eat (at the famous Whampoa makan place no less!), then went back to home to gulp down my medicine. It's a partial home quarantine, I guess.
Hope I get well soon. I'll need to shop for some stuff for my impending trip to Russia!
Oh and by the way, contact me or e-mail the choir at chamberchoir@smu.edu.sg to get your tickets for the choir's fundraising concert! $15 each! 🙂 (details at picture below)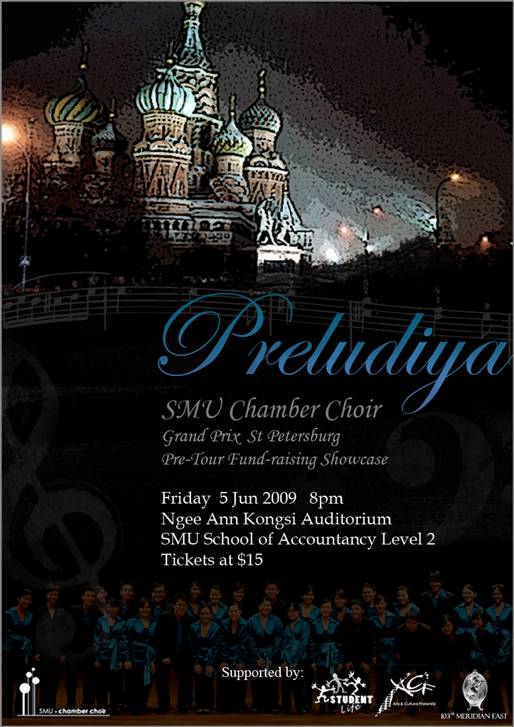 ---