---
---
I know it's been so long! Nevertheless here's my entry! 😀
24th of May, the last day of our competition 🙂
It was the folk music category.. Songs that we sang:
Sohran Bushi (Japanese)
Xiao Huang Li Niao/小黄鹂鸟 (Mongolian folk song, sung in Mandarin)
Mamayog Akun (Philippines)
Dayung Sampan (Singapore, with melody adapted from a Chinese song)
Now I Walk in Beauty (Navajo traditional prayer, sung in English)
After the competition we have free time until the result announcement and closing ceremony. So we headed to Monte Cassino street to visit
Krzywy Dom 
(sorry if I spelt it wrong!) a.k.a Crooked House.
It lives to its name, surely..
We ate at this cozy restaurant in the Crooked House.
Here's what I ate!
Yummmmmmmmmmm 😀
This thing is called pieroghi (again, excuse me if I spelt it wrongly). Basically they're dumplings, stuffed with different type of things and then smeared with different sauces! The one you saw above was filled with meat and smeared with creamy sauce.
And here's another one!
Yumz! This one was also stuffed with meat and some vegetables, and smeared with sour cream!
Okay if you're wondering.. I did eat two portions of pieroghi! 😛
The story was that.. I ordered for the 2nd one (the one with sour cream) but the waitress gave me the 1st one instead. Well honestly I was not sure that it's the right one but she said that it's the right one. So I ate it and halfway, she came to say sorry that it was mistaken, and brought another plate of pieroghi!
So kind of her, right?
Anyway, apparently our tour guide knows the owner of the restaurant and because of that.. She gave us..
Free shots of honey vodka! I know! I look damn happy with my vodka. It tastes delish! One of the choir member swore that her lost voice came back after the honey vodka. No kidding.
Other shots I took in the Crooked House was mainly shots of people (my friends, of course).
Hehe.. The first "gloomy" photo is my favourite photo of the lot! He even used it for his profile picture once 😛
My other friends.. Jiaqi, Tracy, Jenevieve, and Dawn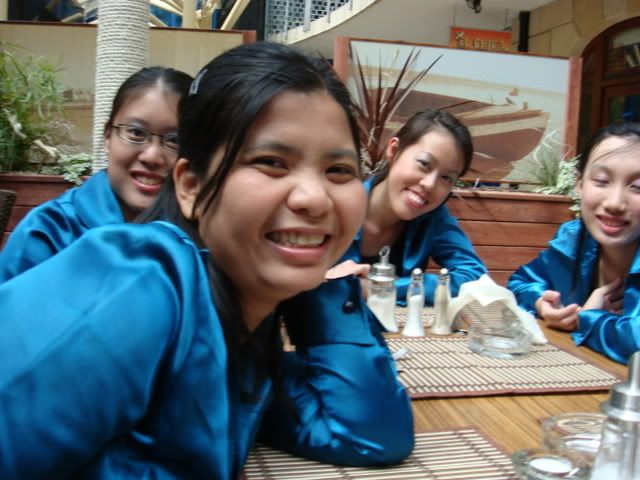 The student conductor, Kenny.
Hehe.. He posed, ok!
After the food we walked around Sopot Pier once again before we took off to the Forest Opera (a.k.a Opera Lesna). It was a tiring walk, because we had to climb up a loooooooong trail.
So here I was, very tired (not sweaty coz it was cold and I couldn't perspirate hahaha), in front of the gate!
And here's a shot of what is inside!
This picture doesn't do justice of how big it is.. Perhaps this photo I found in Flickr is more appropriate.
The organizer gave out flags! Remember that we didn't have our own flags? Apparently they made some for us! How sweet right??
But anyway, being a true Indonesian..
Mwahahahaha. Please don't kill me, please. It's just a joke 😉
Photo by Krishna
Aaaaanyway.
The choir won Silver Diplomas for both of the two categories!
Photo by Krishna (or somebody holding Krishna's camera)
In photo were the section leaders of the choir!
If you see that they're holding some piece of paper, it was the train ticket! Now we had this train ticket competition thing there.. I'll let this drawn explanation by choir mate Kevin paint the picture for you..
Aaaaanyway.
The choir from the Philippines, University of Philippines Singing Ambassadors (UPSA) won all the categories!
A photo with them!
After all the ceremony and stuff, guess what we did…
Get it?
Get it?
Of course.. Paarrrrrtttaaaayyyyyy!!!! (DUH)
The food!
Photo by Krishna
Sausage sausage sausage! Have I told you Poland has the best sausage? Sausage sausage sausage!
And of course some dancing to the music by an awesome band!
photo by Krishna
Made some new friends.. here's a photo of me with an Estonian girl!
And that was 24th of May! Was so tired and numb after dancing and everything! Haha!
See you on the 25th of May, the last day in Poland! (was so sad of leaving)
---