---
---
I'm gonna try different kind of writing. Photos will be now inline with the pre-typed blogpost.
22nd of may
it was the opening ceremony! We were parading down the "hippest" and trendiest street in town, Monte Cassino. Think of it like Singapore's Clarke Quay, maybe. Or maybe Holland V. Just some street that people will go to hang out and meet friends and all that.
So here is the picture, our choir parading down Monte Cassino!


Oh ya, the choirs had their own flags..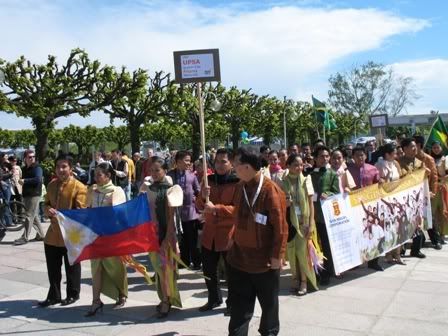 But we didn't! =( They gave us the Sopot flag instead…


(photo by Tracy Cao-the one in the picture below)


Every choir went up to the stage (just by the pier!) and performed one song. my choir performed "Dayung Sampan", chosen because it has the word "Singapura" in it, despite the fact that the song was actually based on Chinese folk song melody.
I don't have the picture of us performing =( nevertheless i will show you the stage!


The MC (second from left) was damn hot… *swoon*
And somehow damn hot people will sound hot. Weird accent became hot. Mwahaha.
Ahem. Anyway.
Read more to continue =)
Didn't take a lot of pictures because was busy performing. Like obviously. Went around and bought some ice cream and nuts. Yes, this ice cream…


Not at the same place (that photo was taken in Gdansk), but same type of ice cream. Tall, creamy, and yummy!
If you're not convinced…


That's my friend Joshua. Photo taken by my other friend Jiaqi.
Moving on.. It was a super super sunny day. As hot as Singapore!
You can see..


Hehehe.
I made this with my camera! Cool right? I was so sian (bored) that day. The sun was too sunny so I was lazy to walk around.
However.. The wind.. Sigh.. The freaking chilly wind.. "Don't be so tropical!" my conductor said.


The lady on the left is the conductor =D
Bonus photos of the sunny Sopot! =D


The original picture of the "postcard"


Cute kiddie rides!


This is St George's church, where our competition was held =) Since it was so sunny it looks so pretty..


This guy does tap dance everyday with his good friend playing the guitar!
He's quite hot..


Him with Tracy and Jiaqi


A "pancake" we ordered. Looks more like prata IMO. There was meat and veggies inside. You can see sour cream on top of it.


This is the Monte Cassino street (after parade)! The red building on the right is the St George's church.


Some restaurant on Monte Cassino..
Heard the UPSA (University of the Philippines Singing Ambassadors) fully performing for the first time. They were DAMN GOOD. I almost cried at the song "You Raise Me Up". At first I was like, er, duh, you raise me up? It's like overplayed already. But oh my god….. *speechless*
I present you a video of UPSA singing! Not "You Raise Me Up", but "Circle of Life".
Update : If you want to hear "You Raise Me Up", try this link. =)
Before you begin.. Let me tell you first.. Every sort of sounds you will hear in the video were made by the choir members themselves. 😉
P.S. Pardon the shaking hand.

Circle of Life – UPSA from Sylvia Giacinta on Vimeo.
even a video can't give a good representation of how good they sing. UPSA, my heart is for you.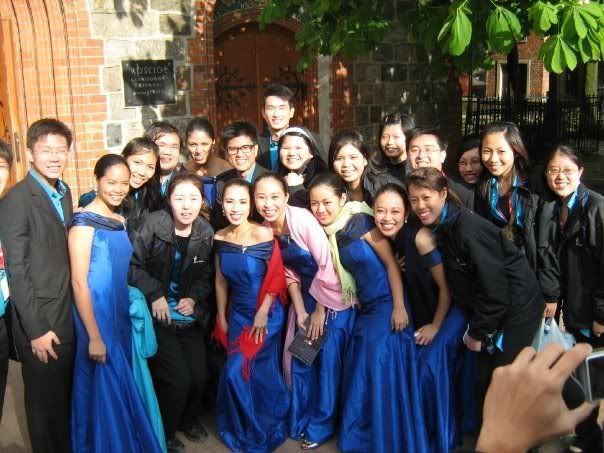 Stay tune for the next day – the first day of competition! Whee!
---