---
---
I'm still quite lazy to post my Europe trip pictures and stories. And I need to wake up by 6.30 tomorrow to go to the office. My work starts at 8.30 everyday.
Anyway, here are some new earrings that I made during my break time (after Europe, before internship).

Azura
The name means blue sky. Just because the swarovski crystals are blue coloured. Not sky blue, but still blue. Hahaha.
I added a star too at the end of the silver chain. I might give this to my sister since she likes star shape a lot.

Tamara
Named so as a homage to this pretty lady: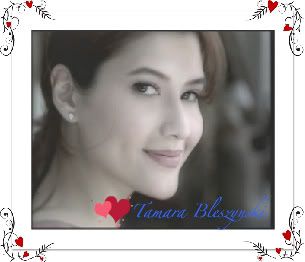 Tamara Bleszynski, an actress from Indonesia (with Polish heritage).
Isn't she gorgeous? And won't this earrings match her?? Hahaha..
But maybe it's too playful for her elegant image though.
Here's an extra shot of the beads of this pair of earrings. I love the beads!

Here's the last one..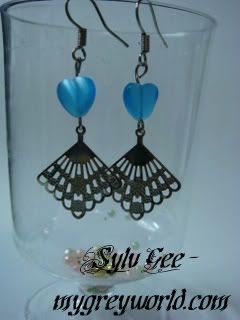 Caritas
The name means love. Coz there's a heart-shaped (love-shaped) bead used. Haha. As simple as that. =P
Just a hypothetical question.. If I were to sell those earrings.. Would you buy them? 😉
Oh btw.. All the photo decorations here were done using the image editor in Photobucket. I'm so impressed. I've been using photobucket for my primary photo host and when I joined it was just a photo host. Nothing else. It has grown!
---