---
---
Full photo album (Facebook)
note : this entry below was handwritten by me on approximately may 19th or may 20th.
In case you want to see the handwriting, here it is.. Hehehe..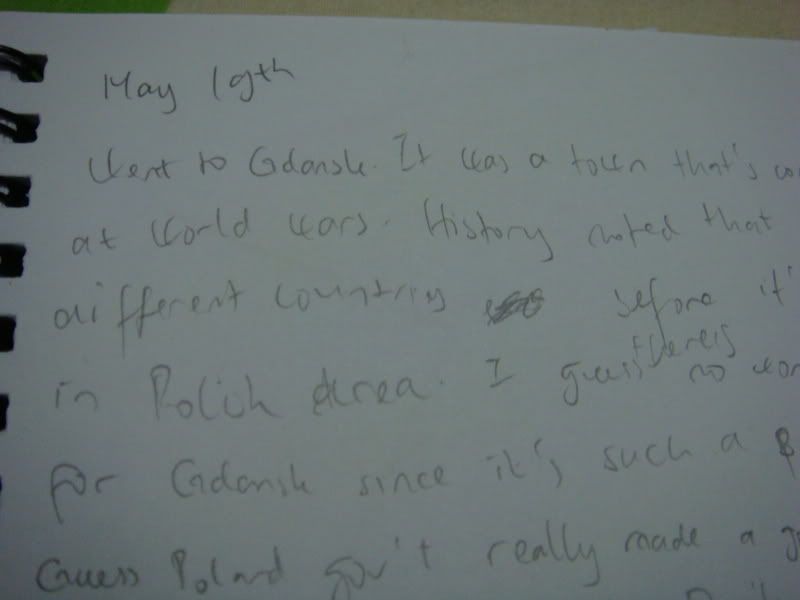 May 19th
Went to Gdansk. It was a town that's completely destroyed at world wars. History noted that it was "owned" by different countries before it decided to be Polish. I guess there's no wonder why they competed for Gdansk since it's such a strategic place. Guess Poland government really made a good decision to rebuild it, retaining the old look. Don't be fooled by the old look though, inside are the hippest shops and bars around.
Ate some pancake with pork meat and some sauce. Dunno what it's called, but it's quite salty and heaty. Nice though. As my Polish is nowhere near sufficient, I juz pointed to any food that looks nice. Haha.
We also visited the St Mary's Church, the biggest church in the world made of brick. It was majestic. How did the people make this kind of church just using bricks? Man, the wonder. The choir sang inside the church. It was Ave Maria (since it's St Mary's chuch, you see). We made the tour guide cry. Haha.
We also shopped for amber. Gdansk is famous for its amber. Bought a pair of earrings for 50 zloty (duh! earrings!). Pretty. not to forget this kewl soprano ice cream. Basically it's called soprano coz it's sooo tall. Overall, it was a fun day (even though my feet don't seem to think so).
[end of handwritten entry]
And get ready for photo galore!

Let me start with the captures of the place where we stayed.
As I said, we were staying in a seminary.
And so of course, they have this big cross..


If you see sth clothed in purple and blue… Yes, that's me. Doing "Titanic" pose. Jenevieve asked me to do it. Hahaha.
Here's another picture of the huge cross…


This is the church..


And they have this huge statue of Pope John Paul II just in front of the gate.


Pope John Paul II is a very popular figure in Poland. The reason is quite obvious : he was born in Poland. You can see his pictures everywhere in Poland.
Here are some more captures…


Doesn't it look nice and peaceful?
Pictures below are the view from my room's balcony.. Yes my room had balcony… Didn't I tell you i was lucky?


Me and Jenevieve at the balcony..


(in case you didn't believe we had balcony =P)
We always started our day with this..


Yummy breakfast! We were free to choose anything. They usually gave us some ham and cheese (as shown in the picture), some spreadable sausages (seen in the picture also), about 3 types of breads, jams, butter (the butter was flavoured! One of them was ham-flavoured), and occasionally eggs.

Can't you see that they look glad? Hehehe.. In the picture you can see the butter, the jam, and the cottage cheese.
After breakfast, it was time to go…


This colorful (and rusty) train was our main transport. Trust me, Singapore has seen better trains than these. Like please. Still want to complain about Singapore MRT? (wait 'til I tell you what metro stations in Paris and Rome are like)

This is the train station! Sopot Kamienny Potok. Only 1 stop away from the city centre of Sopot.
You can see graffiti here. As I traveled around later, I found out that the cities I visited always have graffiti. Maybe it makes the city more "human". Unlike.. Ahem.. Singapore.
Aaaaaand sooo we reached Gdansk!


This gate is called Golden Gate. It's the main gate to enter the old city of Gdansk.

This is called the millennium tree. It was to celebrate the millennium birthday of Gdansk (if I'm not wrong).

The main street at Gdansk! Yes it was dark and cloudy that day..

The narrow alley leading to… Somewhere. Look at the brick building in the background. More of that later…

Did I tell you about lody soprano?? =D
Oh and by the way, in case you don't know, I'm a soprano in choir. So yeah. =P
We got hungry along the way and stopped at this bakery..


Pretty right?
Again, since my Polish is.. well.. insufficient… I just pointed anything I like. Haha.
Guess where we were going to…


It was a post office! No kidding!

And these are some "doves" on the ceiling.
Some buildings at Gdansk..


If you think they look like Amsterdam.. Well.. The guide said that the buildings was designed by Dutch architects.

That is the Neptune Fountain.
I know, bad angle…
And now it's the time for the superstar!
Remember the narrow alley you saw earlier in this post?
It leads to..
The largest church in the world made of bricks (and only bricks).
St Mary's Church.

And of course, I need an evidence photo.
This picture below is of a clock..


It's a very unique clock. You can see it also tells you what zodiac time it is. Very cool.
Those alleys in "Mariacka" area (comes from St Mary church's name) have a lot of people selling amber stones and jewelries made of amber.


They sell it in an open stall on the street! But actually usually they have their own shops behind..
Oh yah I talked about food didn't I?
This is what the pancake looked like!

That's all today… Stay tune!
---